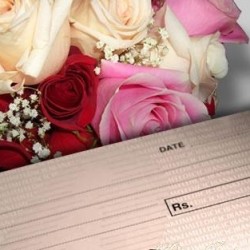 Indian wedding ceremonies are an elaborate and expensive affair. A budget plan is an important requirement for any wedding so that only that you do not get a sharp dent on your pocket. In case you do have time or you are not good at budgeting, you can always hire a wedding planner to plan everything for you. They will plan your wedding according to your budget. However, if you plan to do the entire budgeting yourself, first of all plan to patient as well as economical. Look for all the aspects where cut down your budget. Remember you need not become miser; you need to become simply a little wiser. In case you need to have an idea about budgeting for wedding, here are few handy tips.
Planning a Wedding Budget:
You need to require the entire set up before you understand the budgeting i.e. the kind of wedding being planned by your family, the available budget and the expected number of guests.
Once you have a complete idea of the expected results, you can start planning in advance. So, that you have a very elaborative idea of your expenses once you start execution of your plan.
Start from making a guest list because the more people you invite, the more your budget will be shot up. If you want your ceremony to be less expensive, keep your guest list limited to people you are extremely close to.
The other thing that consumes most of your budget is shopping, so be extra cautious when you are on shopping. Stick to your list and the share of budget devoted to it.
Book the venue only for the required time as staying there after marriage ceremony ends is of no use. It would be nothing except wasting money. So have a tight time schedule for the banquet hall.
Do not over spend on ambience, rather go for simple flowers and least expensive items so that are easily available in the local market, if you have an extremely frugal budget.
Plan your caterer and menu also in accordance with your budget. As if you are planning a cocktail party than go for wine instead of champagne. This will reduce your cost. Even if you have ample budget and you can afford champagne, be very calculative about the amount of drink required so that you do not end up wasting money.
Spending wisely on Jewelry is also an important part of smart budgeting. Go for trendy jewelry instead of ultra-traditional heavy items which would never come out of locker. Also, keep the rates of gold and silver in concern and buy when the rates go low.
Do not extra spend on return gifts or favors; instead be a little economical in this section.