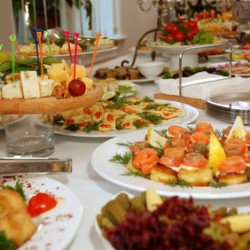 An Indian Wedding calls for a grand feast and for a grand feast you need a wonderful menu and scrumptious cuisines. Earlier family members of the bride used to take care of the menu and quality of food to ensure a grand feast, but now due to the increasing work pressure on professional front, people look for alternative means for arranging the feast and other ceremonies. So, generally people opt for agencies that provide catering services. Several professional caterers provides wonderful services for marriage and other parties, so even if you do not have time to personally peep in the kitchen every moment, you can arrange a grand feast by hiring a right caterer for your party. Given below are few tips to help you choose the right caterer for the wedding ceremony at your home.
Tips for Selecting a Wedding Caterer:
The first and foremost point is your budget. You must look for the best service provider within your budget.
Though you can get an exhaustive list of catering service providers from net, it is always better to go according to the words of mouth any experiment at such an important day can be disastrous also.
You must be very specific about selecting the right kind of caterer for your required menu as if few caterers specialize in non-vegetarian items but if yours is a traditional Brahmin marriage with no non-vegetarian items, it is better not to let them experiment with the vegetarian menu at your home. It would be better to look for some other caterer which has vegetarian menu as its USP.
You also must ensure that apart from the menu, the caterer is also good at the hall and table Decor as right presentation of a good meal is very important element of the feast.
Last but not the least, the service of the caterer entirely depends upon your choice. So, if you are specific about something like a royal cocktail service or some special local cuisine, you must very clearly instruct your caterer right from the beginning so that there is no scope of any loophole.