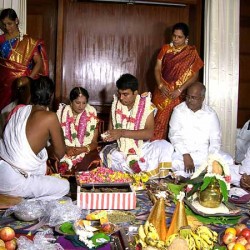 Tamil marriages are not very showy and extravagant as Tamilians believe insimple living. Tamil people are very particular about their customs and traditions. However, Tamil weddings are attended by distant relatives and friends and hence are held on a large scale. There are many wedding rituals which are observed by them, without which the marriage is deemed incomplete. The important Tamil wedding rituals are given below.
Pre Wedding Rituals
The wedding rituals begin with Panda Kaal Muhurtham, wherein the families of the bride and the groom pray to the Lord for an uninterrupted wedding ceremony. After this, the groom is welcomed with the traditional aarti by the bride's side on the day before marriage. He is offered sweets, sprinkled with rose water and even a coconut is broken to ward off any evil. Next is Vratham, which is a small puja organized before marriage. Following this is Pallikai Thellichal ceremony, as per which grains are sprouted in earthen pots, which are later immersed in a pond to feed the fishes.
The next ritual is Naandi, in which Brahmins are given gifts and sweets to seek their blessings for the wedding alliance. Nicchiyadharatham is the formal engagement ceremony, wherein the bride and the groom exchange rings. After this, the Reading of Lagna Pathirigai takes place, which is formally announcing the wedding and reading out aloud the wedding invitation, to inform everybody about the formalizing of the alliance.
Wedding Rituals
On the day of the wedding, Mangala Snaanam takes place, as per which the bride and the groom take purifying bath. Before the bath, oil and haldi-kumkum are applied to them. Another interesting ritual is Kashi Yatra, wherein the groom threatens everyone to leave for Kashi and lead a life of ascetic. He is stopped by the bride's father, who promises to give his daughter to her. After this, the groom heads towards the mandap, where he meets the bride.
Then the exchange of garlands takes place between the bride and the groom. This is followed by the Oonjal ritual, wherein the couple is seated on a swing and given milk and banana to eat. Rice balls are used to prevent them from evil eye. This is followed by Kanyadaanam, in which the bride's father gives away his daughter to the groom. After this, Muhurtum ritual takes place wherein the groom ties mangalsutra and puts vermillion to the bride. Subsequently, they take seven rounds and seven vows around the sacred fire called Saptapadi.
Post Wedding Rituals
After the wedding, both the families exchange gifts with each other. This is called Sammandhi Mariyathai. After all the wedding ceremonies are over, the bride leaves with her husband for her marital home. Here, she is welcomed by her new family with the traditional aarti. This is known as Grihapravesham. In the evening, the Reception party takes place, which is an informal event. The guests meet the newly wed couple and give them blessings. This is followed by sumptuous dinner.