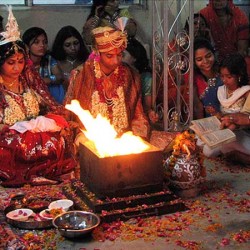 Marwari marriage is celebrated with gaiety. It is an elaborate affair and extends over a period of days. Marwari wedding strictly adhere to the ancient customs and traditions. There are a number of pre wedding, wedding and post wedding rituals, which are observed. After the completion of all these rituals only, the marriage is deemed complete. In fact, Marwari marriages are very traditional and rather regal in look and appeal. For more information on Marwari wedding rituals, read on.
Pre Wedding Rituals
The engagement ceremony is the first ritual, which is performed at the groom's house. Only the male members of the bride's family visit the groom's place for the ceremony. The bride's brother applies tilak on the groom's forehead and gives him gifts. After this the Ganapati Sthapna & Griha Shanti ceremony is held, wherein the bride and the groom's family perform havan and install the idol of Lord Ganesha. The next is the Pithi Dastoor, in which the bride and the groom are applied turmeric paste.
Mehfils form an integral part of the wedding celebrations. Both men and women have their own mehfils, wherein they sing and dance. This is followed by Mahira Dastoor custom, as per which the maternal uncles of the bride and the groom distributes gifts in the house. Other important ritual is Janev, in which the groom is made to wear a white thread. The groom pretends to run away from the marital bounds while his maternal uncle tries to convince him. Subsequently, the Palla Dastoor is conducted, wherein the bride worships Goddess Gauri.
Wedding Rituals
On the wedding day, the Rajput Baraat visits the bride's house. It is a regal procession, which does not involve any dancing. On his arrival he is welcomed by his mother-in-law, with the traditional aarti. He then proceeds towards the mandap. Here, mostly the women of the bride's family are present as themale members are entertaining the baraat. During the complete ceremony the bride covers her face with a long veil. From the groom's side, only one male member accompanies him.
Post Wedding Rituals
After the wedding, the bride and the groom leave for their marital home. A coconut is placed under the wheel of the car, as the bride unveils herself in front of her husband. Usually at this point of time, the groom gifts her a piece of jewelry. On arrival at the groom's house, his family welcomes the newly wed couple. This is called the Grihapravesh custom. The next day after the Grihapravesh, Pagelagni tradition is followed. According to this custom, all the members of the groom's family are introduced to the new bride and they present her with gifts.