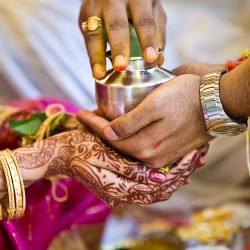 Hindu marriages are the most lavish and extensive. They extend over a period of four to five days. They are highly traditional and strongly adhere to the ancient customs and traditions. Moreover, wedding is considered an important religious practice in Hindu religion. It is held as one of sacred sixteen sanskaras or sacraments. It is not just the bond between twopeople but also between two families. The Hindu marriage is primarily divided into three segments, pre wedding rituals, wedding rituals, and post wedding rituals.
Pre Wedding Rituals
The pre wedding rituals comprise of engagement, tilak, sagai, sangeet and mehandi. The Engagement can also be called the ring ceremony, wherein the prospective couple exchanges rings. Next is the Tilak ceremony, in which the bride's brother applies tilak to the groom and gives him gifts. After this, the Sagai ceremony is conducted in which both the parties exchange gifts. Then comes the Sangeet ceremony, wherein the female members sing and dance to rejoice the occasion. Just before the wedding, the Mehandi ceremony is organized, in which mehndi is applied on bride's hands and feet.
Wedding Rituals
The wedding rituals begin with the Jaimala ceremony, in which the bride and the groom exchange flower garlands. After this, they are taken to the mandap where the Kanyadaan ritual is performed. In this ritual, the bride's father gives away his daughter to the groom, while the priest chants mantras. After this, the Mangalpheras take place around the sacred fire. They also take the seven vows called Saptapadi, and promise to abide by them throughout their lives. After this, the groom puts sindoor or vermillion in the bride's hair parting. This is followed by tying of mangalsutra around the bride's neck by the groom.
Post Wedding Rituals
The post wedding rituals comprise of vidaai and reception. In the Vidaai ceremony the family of the bride gives her a sobbing farewell. Before leaving, the bride throws back three handful of rice and coin over her shoulders, towards her parental home. This is done to ensure wealth and prosperity remains in her home forever. On the arrival at the groom's house, the new couple is welcomed by the groom's mother, with a traditional aarti.
The bride is asked to knock a vessel filled with rice, kept at the entrance. She then dips her feet in a mixture of red vermillion and enters the house, leaving foot prints on the floor. This ritual is practiced as the bride is considered a form of Goddess Laxmi. After this, a number of wedding games are played to make the bride comfortable. Furthermore, a reception party is organized by the groom's family in the evening. This is organized to welcome the new member and introduce her to the associates.