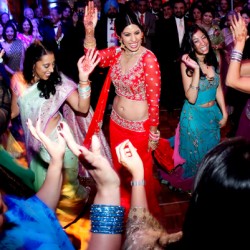 It is hard to miss the grand Indian wedding. Indian weddings are always splendid affairs showcasing some of the finest aspects of Indian culture. Go to the any part of the country, you will find completely different rituals and functions marking the wedding affair. There is something very striking and appealing about the way Indian weddings take place. It is sign of our deep-rooted culture still going strong despite journeying across thousands of years. We are into a revolutionary modern age yet when you witness the wedding functions in India; you will be totally fascinated by glitz and chutzpah associated with it.
Indian wedding is not a one-day affair. It involves three stages of pre-wedding, wedding and post-wedding celebrations. The preparation starts one month prior to the marriage function however the real actions takes place in the seven days preceding the occasion. The functions symbolise the rich tradition, culture and heritage of the country. Several rituals and events are marked for celebrations in the wedding. Some of the most common rituals that are known by different names in different regions are Tilak, Haldi, Mehandi and Sangeet. You must have seen several instances of these rituals in Hindi movies. These rituals are primarily pre wedding rituals.
The family members of both bride and bridegroom exchange gifts and pleasantries as a part of tradition. The wedding ceremony is marked by tying up of nuptial knots of the bride and bridegroom. This is long drawn out process which involves lots of rituals and functions. The post-wedding functions are Doli and Vidaai. These refer to the times when bride leaves for her new home. This is perhaps the most emotional moment for the bride and her family as she is leaving the house where she had spent her entire life.