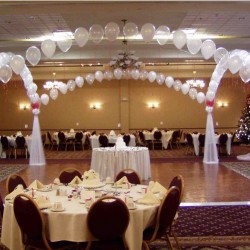 Engagement is an important ceremony, as it marks the beginning of the relationship not only between two individuals, but also between also two families. Different kinds of decorations can be seen in different parties, depending on the budget and the chosen theme. However, flowers and artifacts find a special place among the decorations used for the engagement parties, irrespective of the theme. The colorful decorations set the perfect ambience for celebrations and boosts up the party spirits within everybody. If you want to make your engagement party the most memorable one, then decorate the venue in a unique style that reflects your perception about beautifying a place. In this article, we have given some ideas for engagement party decorations.
Engagement Party Decor
Welcome the guests with a beautiful banner at the entranceway. The wordings of the banner should be legible and the font chosen for it should be colorful, sparkling and attractive. Tie a few bunches of balloons around the banner, to complete the look.
If you are decorating your engagement party venue in an ethnic way, then you may make use of bright red and golden colors for the flowers and artifacts like bells, wall hanging, etc.
Lighting is a decisive factor, which sets the mood for the venue. If you want to make the venue truly ethnic, then illuminate the place with lanterns and candles, instead of using electric lighting fixtures. If you want to create a romantic atmosphere, then you may dim the lights of the place, using dimmer switch.
You may make use of mirror work, heavy embroidery, wooden furniture and vibrant colors for the party venue. This is best applicable when you are decorating the room according to an ethnic theme.
Some of the popular themes chosen for decorating the venue of engagement party include fairy theme, royal theme and that inspired by Hollywood/Bollywood. Ensure that the decorations well complement the chosen theme.
Add substance to the party decor by breathing in 'life' to the decorations. Literally not possible though, you can always communicate the thought of the wonderful unison of the bride and the groom. You may make a collage with an assortment of photographs of the couple, right from their childhood to the present time. You may hang it in the center of the room, so that everyone's attention is drawn towards it.
The use of oversized decorative items for engagement parties is in vogue. You may make use of the over-sized cut out of engagement ring for decorating the party hall. Ensure that you have placed the balloons at locations that are catch the immediate attention of the guests.
In case you are arranging a buffet for your guests, then ensure that the table is arranged neatly and attractively. Adorn the table with a beautiful flower vase or a centerpiece made of fruits. Arrange the cutlery properly. Insert candles, placed on decorative candle holders, in between the dishes. Ensure that you do not overcrowd the buffet table.