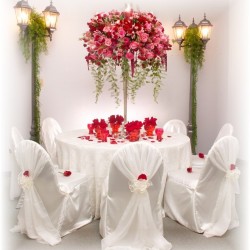 In every wedding ceremony flowers play an important role. Flower gives a new and fresh dimension to the wedding decor. Even an Indian wedding the ambience of the venue seems incomplete without a proper flower decor. From Mandap to the cars, the bed rooms to the halls and the pooja rooms to the veranda, flowers are a mandatory requirement for the wedding ambience. Be it a north Indian or a south Indian Wedding or an east Indian Wedding or a west Indian wedding flowers are a vital requirement. If you are planning the ambience of some forth coming, given below are few exclusive yet handy ideas of wedding flower decor.
Flower Decoration Ideas for Indian Wedding
Flower Decoration depends up on your budget. The type and quantity of flowers basically affect your budget, so keep your choices in synchronization with the available budget.
Simple flower decorations are not so expensive and can be done on your own. However, if you are looking for some specific and exotic ambience you must consult some interior decorator or florist.
As you are planning an Indian Wedding, you must plan a brighter and vibrant ambience. So you must choose brighter and vibrant flowers also.
Marigold is unavoidable flower if you are planning an Indian Wedding. Yellow and Orange Marigold flowers give a traditional Indian wedding ambience to your venue.
If you are planning a South Indian Wedding ambience, the use of white Jasmine is quite traditional yet classy.
Rose is also one flower that you must use in the wedding ambience as it provides a vibrant touch and sweet aroma to the wedding venue.
The proper decoration of the Mandap with flowers is also very important. You must decorate the entire Mandap with exotic flower varieties to give it a wonderful look. Fresh flowers like roses, orchid, marigold, gerberas can enhance the overall appearance of the traditional and ethnic look at the Mandap.
The flowers selected by you set the mood for your wedding day. Like for different seasons there are different colors of flowers. For fall wedding go for rich, bright and earthy colors like red, burgundy, amber, yellow and rust. For summer go for light and pastel shades like pink, sky blue, citrus tone and for winter go for an evergreen effect, white and sparkling silver. It is good to use seasonal flowers as it sets the mood for the celebration.