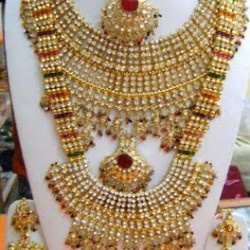 Shopping for wedding purpose should be done wisely. There are lots of thing to buy before a wedding ceremony.So it is always advisable to shop in advance and within your budget. Whenever you start shopping for wedding purpose you should prepare a budget and a list of items you have to buy. And based on that list you should buy your items. You should not exceed your budget. Now to make the best deal you should make a survey before you start shopping to find out where you can get the best deal. Here are some things you should remember.
Indian Wedding Shopping Guidelines
First of all you should have a budget for your shopping and remember to stick by your budget accept for negligible fluctuations or otherwise be prepared to get a sharp dent on your pocket.
Secondly you should make a list of items you want to buy for the bride, groom and relatives and family members. Remember to prepare all lists separately so that you can easily segregate the budget as per the requirement.
Do not forget to make the budget of the other basic things like kitchen items, linen, beddings and guesthouse requirements separately.
Other than all this, you must take a separate list of items from the prospective bride and groom for the items of their needs.
While buying new household items for the newly wed couple keep in concern the lifestyle, profession and needs of the 'would-be-couple'. Also, make sure that you do not compromise with the quality of the product as they are to be used for ever.
A list of religious items required during the Pooja and Havan should be made separately so that there is nothing missing at the Mandap. Take a complete list of items from the priest of your Pooja requirements.
It is always advisable to buy most of things from a single trustworthy shop so that you could avail a hefty discount as well as face no problems in exchange or returning.
If you are planning to buy favors for your relatives, make sure that you buy similar gift items for all of them, so you can also get something prepared on prior order.
Gifts for your bridegroom and his family should be done according to their choice, so it is better to take them for shopping along with you when you are buying clothes, accessories and other items for them.
Last but not the least, remember to take a receipt for whatever you buy, that will not only help you keep a record of your budget but also help you in exchange or return in case there is some problem.