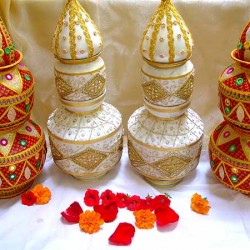 Indian wedding is the time to have fun and enjoyment. It is the time when the entire family meets to celebrate the auspicious occasion. Wedding is regarded as the most important social event any family. It is expected that the guests who come to celebrate are treated well and given wonderful wedding favors. In general, these wedding favors or party favors are meant for close relative and friends. Nowadays various types of interesting give away are available in the market and selection of these gifts strictly depends upon your choice as well as budget. In case you are planning to buy wedding favors for your guest, read this article for some handy tips.
Tips for selecting a Wedding Favor
While making a budget, always devote a respectable share of your money to the wedding favor section. Do not be extravagant but do not be frugal also.
Remember to buy something that makes your guests feel special, because your guests are close and dear people.
Try to buy same favor for all your invitees so that there is no comparison or dissatisfaction afterwards.
If you are planning to give a souvenir or something, it is good to get it prepared on order as it costs less and also has a personalized touch.
Indian Wedding Favors
Copper, Silver or Brass Pooja Thali
Pooja Thali or plate made up of copper, silver or brass is always the best option for a wedding favor as it is considered auspicious by everybody and is of daily use.
Statue of Lord Ganesha 
Lord Ganesha, the Hindu God of wisdom has always been the favorite choice as a gift on such occasion. Gift your guests, good luck and wisdom with the statute of Lord Ganesha.
Idol of Goddess Laxmi
An idol of Goddess Laxmi is also said to bring prosperity with itself, so you can gift an idol of Goddess Laxmi to your guests.
Indian Diyas
Indian Diyas are classic and beautiful gift items. They are loved by every body and are also a beautiful decoration items. In case you do not get a Diya, you can go for aroma candles also.
Silver Coins
Silver Coins engraved with Ganesha and Laxmi's image are considered auspicious as well as exclusive gift items. They do not even cost much. So, a silver coin is also a good option as a return gift.
A Dry Fruit Box
A beautifully packed dry fruit box is also a good item as a return gift. If you wan to be little more creative, get the box packed in a very beautiful way along with personalized tag and thank you card.