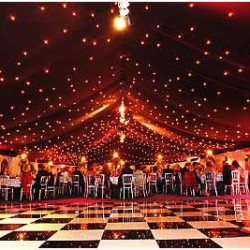 Deciding the wedding venue is an important factor. It is a dream of every boy and girl that their wedding venue should be a like a fairyland or a royal palace. They fantasize about their dream venue long before the actual wedding day. Nowadays, having a dream venue or destination for marriage is no longer "just" a dream, as it is fast turning into a reality. With wedding planners and complete wedding packages available at various places in India and abroad, planning a dream venue for the wedding is definitely not the chore it used to be. However, there are certain things to be looked after, while deciding the venue. In the following lines, we have provided information on how to decide the wedding venue, which would surely prove to be extremely helpful.
How To Decide The Wedding Venue
The most important thing to be considered while deciding the venue is the budget of the wedding. Depending on the budget the venue is decided. Remember, the more the budget, the better will be the venue.
During the wedding season, there is always a lot of rush, so it is always better to book your venue before hand. This would ensure that you get a better deal for venue, catering, and Decor at lesser price.
Another important thing to consider is the location of the venue. Ideally, the wedding venue should be one that is close to your house. This would help and make it easier for you to commute.
Your guest list would be a determining factor when it comes to selecting the wedding venue. For a small gathering, a modest sized hall is apt, but in case you have invited a big gathering, you would require a large hall or house.
As for location choices, you can either go for community center buildings, university facilities, parks, banquets, farm houses or even weddings from your own home.
The services provided at the venue are sure to influence your choice. Make sure the wedding venue you choose provides appropriate seating facility, catering, decoration, music, and so on.
The time or the number of hours allotted by the wedding venue is an important factor. Generally, wedding venues are allotted for about 6 to 7 hours, after which extra charges are paid.
Though often less emphasized and discussed, the parking facility of the wedding venue plays an influential role. Make sure the parking is readily available with a parking attendant or valet.
It is always better to ask whether or not the place has any restrictions with regard to using any of its facility, lest there is a problem at the last moment.
If you are planning a destination wedding venue, make sure it is a small affair with less number of guests; else be prepared to shell out a large amount of money. In case of destination wedding, the best bet would be to transform your wedding locale into your honeymoon destination.
In case, you are planning a wedding abroad, then the legal issue can crop up. Visas and the marriage license need to be arranged for. All this requires time to plan, so it is always better to start early.