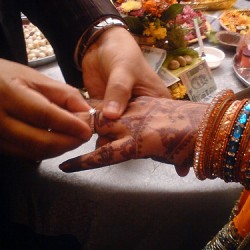 Marriage is regarded as the most important social as well as religious event in Indian culture. The concept of marriage can be traced back to Vedic times. Even now, it is considered to be the most sacred and vital affair in one's life. An Indian wedding, as known to everybody, is extremely elaborate and intricate affair. The wedding related rituals begin days before the wedding ceremony in forms of pre-wedding rituals. One of the most important pre-wedding rituals amongst them is the Engagement Ritual. Though most of the people believe that this trend of 'engagement ceremony' came from the west but if you look deep in to the Indian traditions, the engagement ceremonies exist in one form or the other in different communities of India from a long time. It is known as misri
, 
aashirwad, and mangni in different Indian communities.
Engagement ceremony is almost celebrated in the same manner in almost all the religions except for certain variations according to their community and family rituals. Generally, the engagement ceremony is organized at the bride's place or some banquet hall. The family and relative of bride and groom gather to celebrate the first formal party of the forth coming wedding ceremony. Both the families exchange gifts, sweets and good wishes. A formal ring ceremony is then done to solemnize the engagement ceremony. The prospective bride and groom are then introduced to each other's family. A lunch or a dinner (depending up on the time of function) is organized for all the family members and guests present at the ceremony.
Different Kinds of Engagement Ceremonies in India
In Gujarati customs, the engagement function is called Sagaai. In a Sagaai, the bride's family arrives with 'Matli', a steel container full of sweets and gifts for the groom and his family.
In Christians, the engagement ceremony is very much like a social gathering and formal announcement of marriage where the would-be groom and bride exchange engagement rings.
In most of the North Indian states, the ceremony is held as soon as the marriage details are finalized. Along with the ring ceremony, the ritual of 'Tilak' i.e. greeting the groom with auspicious vermilion paste and rice is performed by bride's brother. Then the exchange of baskets of fruits, dry fruits and sweets takes place between both the families. The bride is also gifted with some traditional family Jewelry from the groom's parents.
In the South Indian families, the engagement ceremony is quite different from those of North Indian families; you will be surprised to know that the presence of the groom and bride is not compulsory on the engagement function. The engagement ceremony in South India is more like a commitment between both the families of the would-be bride and groom. The most important ritual in the south Indian engagement function is the exchange of 'tattu' i.e. 'engagement plate' which consists of coconut, flowers, turmeric, beetle nuts and beetle leaves.